Publicerad 7 April, 2021
Lifting tool for forklifts gives Adnan a better everyday life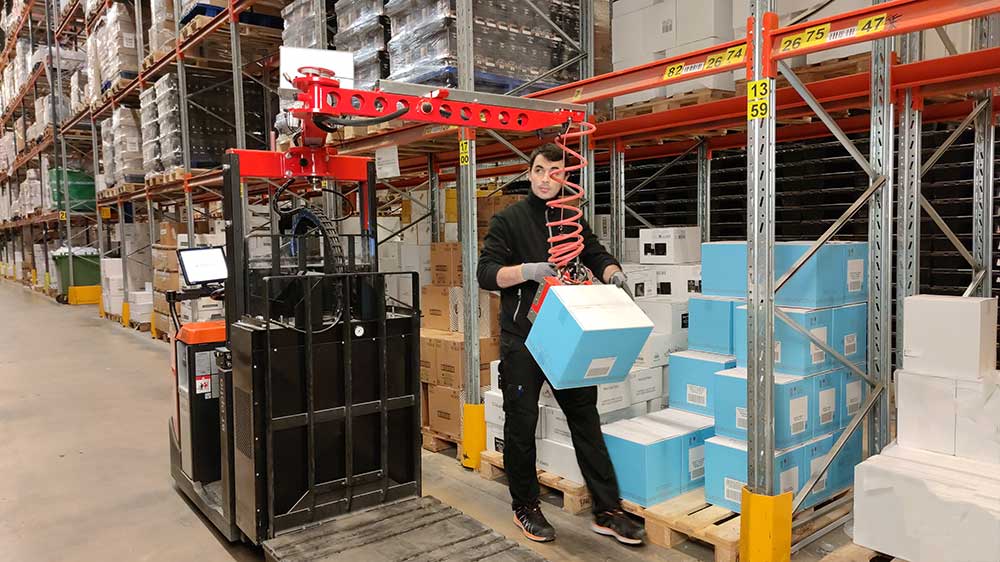 At JF Hillebrand's beverage warehouse in Jordbro, Sweden, about a hundred forklifts are driven around daily from 6.00 a.m. to midnight. Each forklift is operated by a warehouse worker or order picker who manually picks up 10 tonnes of goods every day. This challenging job has just been made much easier by the introduction of the Speedy Picker – a new lifting tool for order picking forklifts.
JF Hillebrand is a leading global logistics company specialising in the distribution of liquids and beverages, some of which are delivered locally to Systembolaget*. In the warehouse in Jordbro, Adnan, an Order Picker for the past two years, drives a forklift around to pick up all the products on his list for the day. These days his job also includes training his colleagues on how to use the Speedy Picker – a lifting tool with a jib crane for forklifts. By using the Speedy Picker, Adnan does not need to lift the boxes manually anymore. The boxes feel weightless and Adnan is spared from wear-and-tear injuries.
After a year with the Speedy Picker, Adnan can clearly sense a difference in his everyday life. "It feels good because my body isn't under such a high strain anymore. I feel less tired and the job is easier," he says.
"I feel a big difference in my body from using the Speedy Picker. If you lift with your body, you really don't have much energy left after working. You go home, shower and fall asleep. But if you work with the crane, you have energy afterwards to go to the gym, to go for a run and to have fun with your family," Adnan continues.
Since he began working with this special crane for forklifts, the ten tons he lifts daily only feels like one. Adnan heartily recommends the Speedy Picker to other companies with warehouses. "It's better for the workers, it's better for my colleagues. I recommend it to everyone!"
____
*(Sweden's government-owned alcoholic beverage retailer)