Publicerad 17 June, 2021
Lifting tools for rooms with low ceilings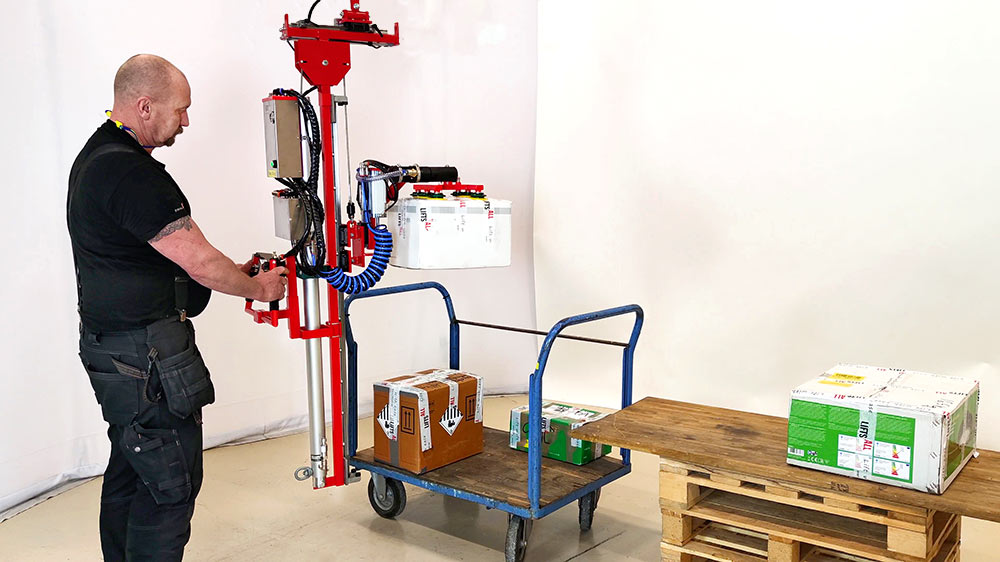 Lifting packages in a small room can often be challenging. How can you ensure your personnel have enough room to work efficiently, without compromising on the need for lifting tools for their well-being?
At the Växjö County Hospital in Kronoberg, Sweden, a new package-delivery reception has been built. Packages and boxes are now delivered on pallets to a little room that has low ceilings. Here, they are lifted and placed on a cart which is rolled through a small hole for further distribution.Lifting from the floor to a height above your shoulders often entails excessive strain and damage for the body, because you lift with a bent back. For this reason, Lifts All has constructed a mini version of its popular lifting tool – the "Manhattan". The Manhattan is a mini forklift that lifts boxes from the floor up to a height of 177 centimetres. The lifting tool is easy to operate. One button activates the suction cups that grip the box or package, and another button lifts it to the right height, all without any bent backs or unstable balancing.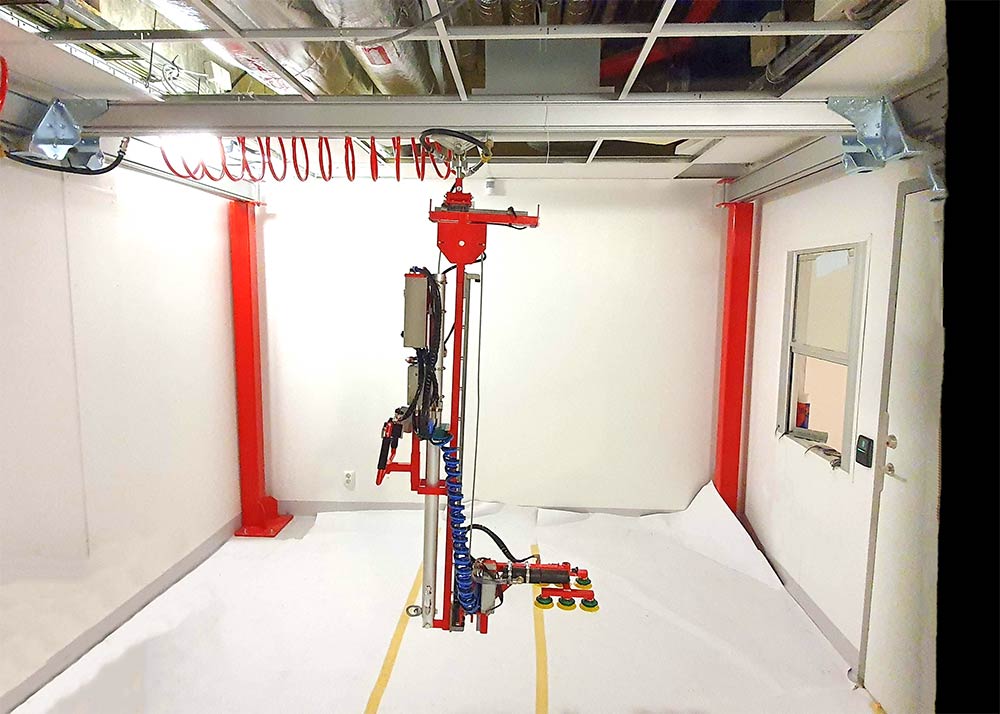 The overhead bridge crane is placed right up against the ceiling with the pillars neatly tucked away in the corners of the room.
Using a lifting tool in a room  with low ceilings
After construction, it's time for the installation. The Manhattan Mini for Växjö County Hospital is to be used in a small room for goods, with a ceiling height of only 240 cm. To maximise on this, Lifts All installed the lifting tool on a low-build bridge crane system, with the bridge girder placed high up against the ceiling. The crane's runway beams rest on four pillars. The pillars are placed with a margin of a few centimetres from the walls. This fully maximised the rooms width, breadth, and height. The lifting tool moves smoothly on the bridge crane and has access to all parts of the room. Ready to help where it is needed the most.
The Manhattan Mini is one of many special solutions that Lifts All has designed for working in tight spaces. Other examples of on of Lifts All's low-built lifting tools is the Vacuum Sack Gripper. The Speedy Picker, and Lifts All special jib cranes are also flexible enough to work in most tight spots.