Publicerad 5 January, 2021
Lifting the vaccine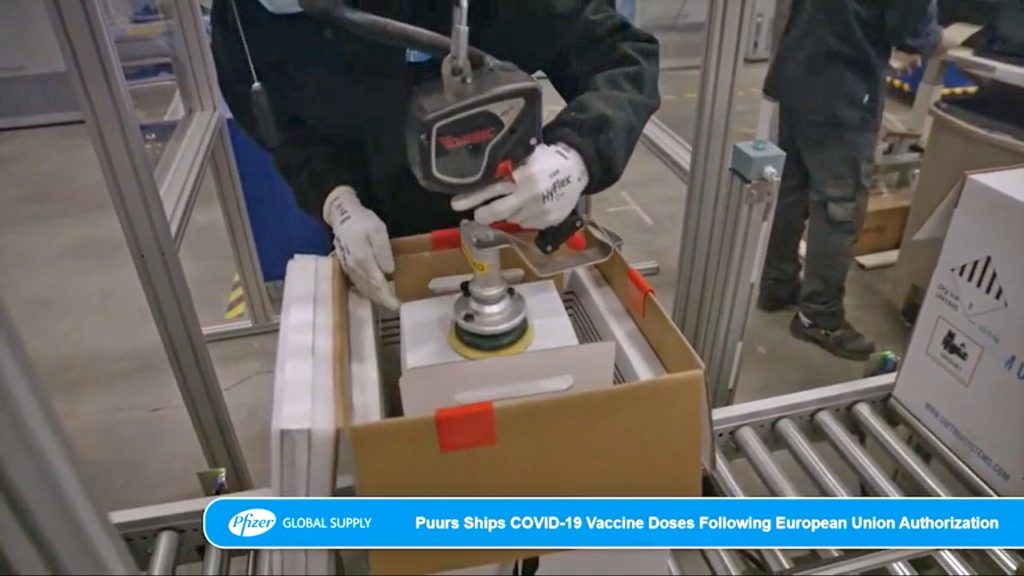 The day before Christmas Eve, the media reported that pharmaceutical companies had started shipping Covid-19 vaccines from their manufacturing sites in Europe. Workers at Pfizer's factory in Puurs, Belgium, could be seen loading, lifting and preparing boxes of vaccine doses for shipment. It is important to load both safely and quickly, to ensure that the valuable vaccine arrives in pristine condition.
We at Lifts All are incredibly proud that Pfizer is using our lifting tool, the Basic, to move the boxes of vaccine. By using vacuum technology, the Basic latches on to the boxes with a safe and steady grip, as they are moved during the dispatching process. The vacuum gripper does not leave marks on the boxes, and maintains its grip even if vacuum pressure should decrease. Watch the whole dispatching process in the video below (the Basic can be seen at circa 0.52 and 1.48.).
The lifting tool was provided to the Pfizer factory by Lifts All's Belgian distributor Tiltech. The factory also uses Lifts All's crane, the FlexiCrane, to move packages smoothly from conveyor belts to pallets.

The Basic can be seen at circa 0.52 and 1.48.