Publicerad 19 August, 2021
Why use a vacuum gripper?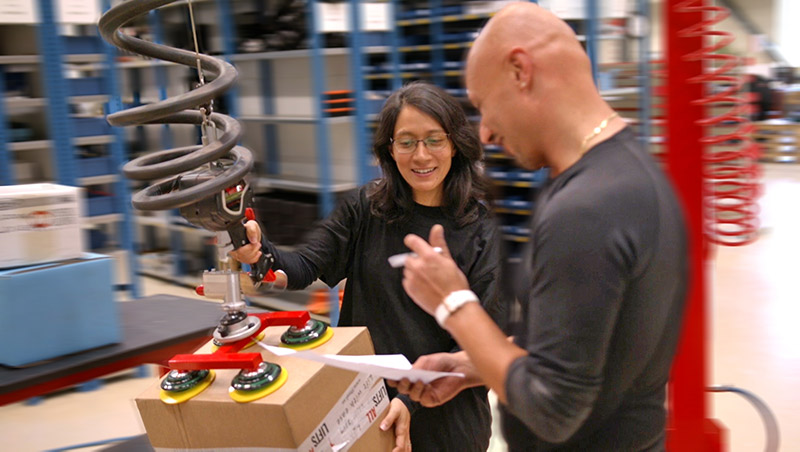 Using a vacuum tool saves on energy and is both safe and economical.  But what is a vacuum gripper, and how does it work?
The Vacuum Gripper – A compressed-air driven lifting tool
Most of Lifts All's lifting tools are driven by a pneumatic cylinder called the Bal-Trol®. This is a hoist and a lifting solution that runs on compressed air instead of electricity. The vacuum gripper is connected to the Bal-Trol by an air hose.
Lifts All offers mechanical lifting tools that grip by clamping, and vacuum lifting tools that grip by suction via vacuum cups. When you connect compressed air to a vacuum lifting tool, a vacuum pressure is formed in the vacuum cups. This pressure is so strong and durable that the vacuum tool can lift objects up to 600 kg. Exactly how much a lifting tool can lift depends on the Bal-Trol model and the vacuum cup(s) used. We offer several different types of vacuum cups to suit different types of loads.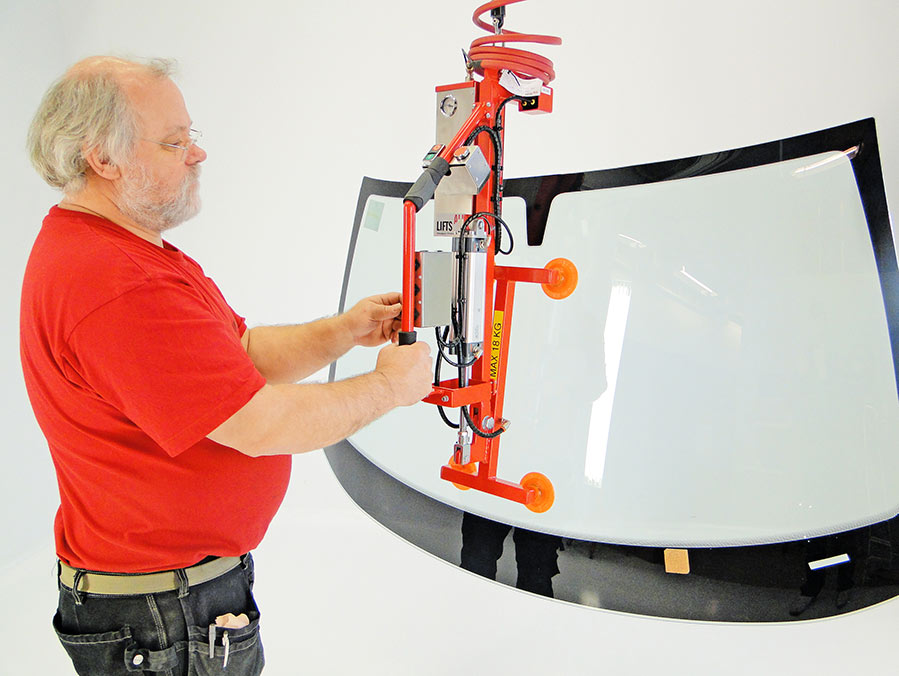 Benefits of using a vacuum gripper
1. The load feels weightless, which improves handling
There are many benefits to using a vacuum gripper. A relatively small vacuum cup can often lift quite a heavy load. The cups grip securely around the load and lift it steadily, making it feel almost weightless. This means that anyone can lift heavy objects without being particularly big or strong. Employees are saved from injuries and the company attains a healthier and happier staff and reduces sick-leave costs. As a further benefit, when more people can perform the lifting aspects of work, it becomes easier to rotate work tasks in the company.
2. Vacuum cups are safe and gentle for fragile materials
Vacuum grippers are often best suited for lifting loads with a relatively compact and smooth surface. Our vacuum cups do not leave marks and can even lift fragile materials. For example, you can use it for lifting windscreens, steel plates, cartons, and drums as well as glass.
Lifting with a vacuum gripper is very safe. Even if the airflow is interrupted, the lifting tool still holds on to the load. The tool also has twice the safety factor, meaning that it is tested to carry more than the maximum capacity required (however, the lifting tool should never be used to lift more than its maximum capacity.).
3. Our lifting tools are cost-effective and environmentally friendly
In contrast to an electric hoist, the Bal-Trol is both quiet and energy-saving. An electric hoist can be very loud, while the Bal-Trol is completely silent. Sometimes electric hoists are cheaper to purchase, but the more electricity it consumes the more expensive it becomes in the long run. Because the Bal-Trol does not consume any electricity at all, it is a greener alternative. Our vacuum grippers are also very energy efficient. Thanks to our energy saving system, the ESS, they only consume 10-20% of the energy compared to other lifting tools.
4. Vacuum grippers are versatile
Vacuum grippers can be used in most workplaces. At Lifts All, we always customize the lifting tool to suite our customers. By doing so, we ensure that the lifting tool is optimized to their specific needs.  Today, our lifting solutions are used in warehouses and manufacturing industries all around the world, where they lift sacks, bottles, boxes, barrels, drums, luggage and much more. Vacuum grippers are a great help, making many jobs in many industries easier, such as lifting from conveyors to pallets, aiding a mounting process, or lifting from cart to shelf.
One of our vacuum grippers is even mounted onto a forklift – the Speedy Picker. It is widely used in warehouses in the distribution industry, to lift between the forklift and the warehouse shelves. The Speedy Picker is very easy to work with and continues to save operators' backs from injury.
Push play to see one of our most popular vacuum grippers- The Basic.