Container Unloading System (CUS) for baggage
General Data
Unload speed: 20 bags/minute
Lifting height: 1840 mm
Maximum capacity: 50 kg
Media: 230 V electricity or 6-7 bar compressed air
Article no: 96-10010, 96-10011
Brochure: Ergonomics through innovation (pdf).
The Container Unloading System is a development of the Container Loading System (CLS). Instead of loading, it is optimized for unloading baggage containers. Like the CLS, it has a lifting table that you can move from the container to the lateral or quayside. The new extended telescoping table has a five-degree angle. This makes emptying a container even easier! Simply set the operating table at the desired height and give the bag a gentle push. The bag quickly slides over the board and down to the conveyor belt. By telescoping the table into the container, it is easy to reach the inner layer of bags.
Baggage container unloading in three seconds
It is possible to unload a bag from the ULD in only three seconds! Therefore, manual lifting and carrying is no longer necessary. Successful tests have shown that it is easy for the user to learn how to use the container unloading system, due to its intuitive design. You no longer need to lift from awkward positions. As a consequence, the risk of workplace injuries is minimized. The employees become healthier and happier while the employer soon sees a decline in sick leave.
Lifting table adaptable to all workplaces
To install the baggage handling system is simple. For example, we can install it in rails in the ceiling or on the ground. It is possible to mount it next to a moving carousel or a lateral. Exactly how we mount the system depends on the preconditions of your workspace. We customize the system according to your carts and containers.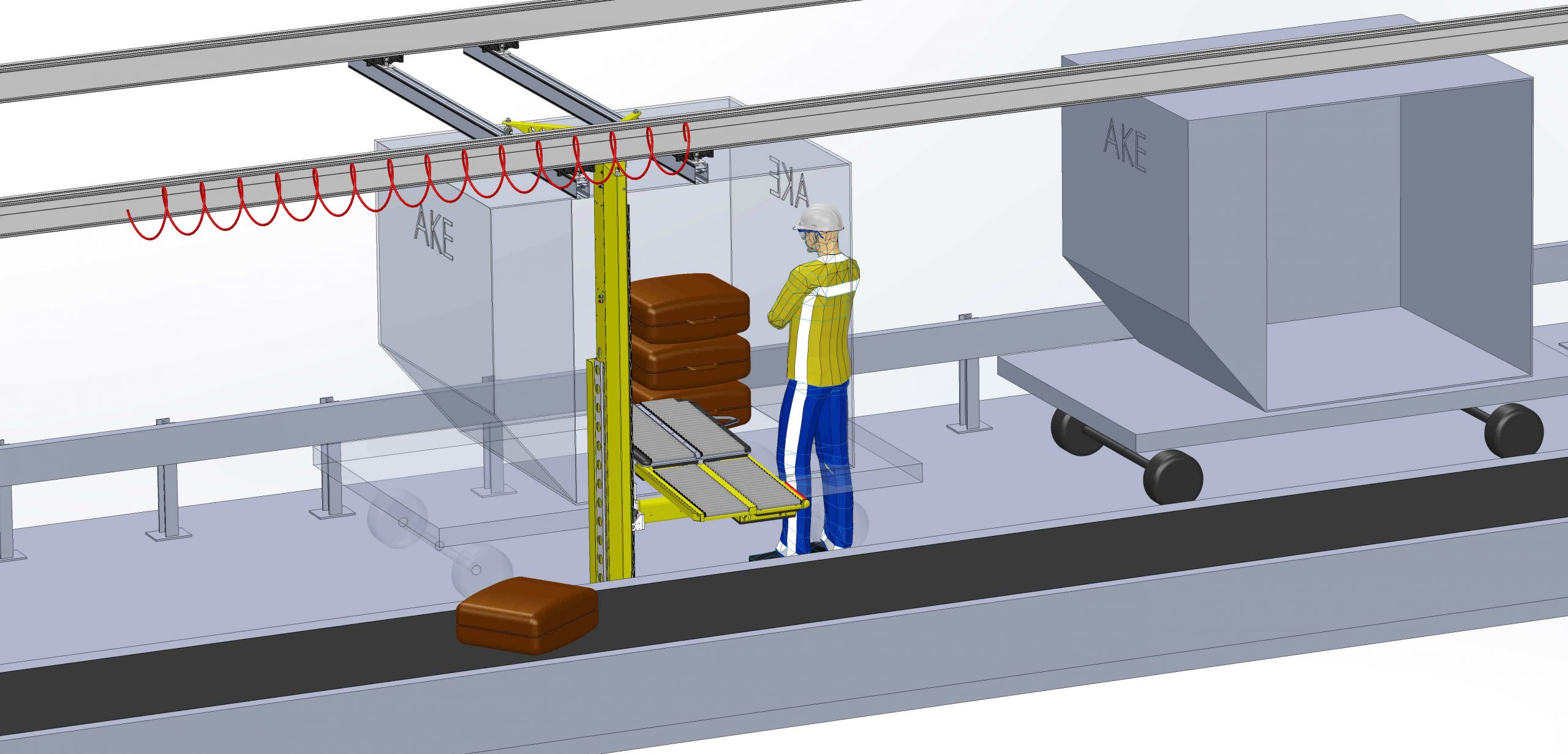 Here is a CUS utilized on a train of six containers. The handler is rapidly unloading onto a low built moving lateral.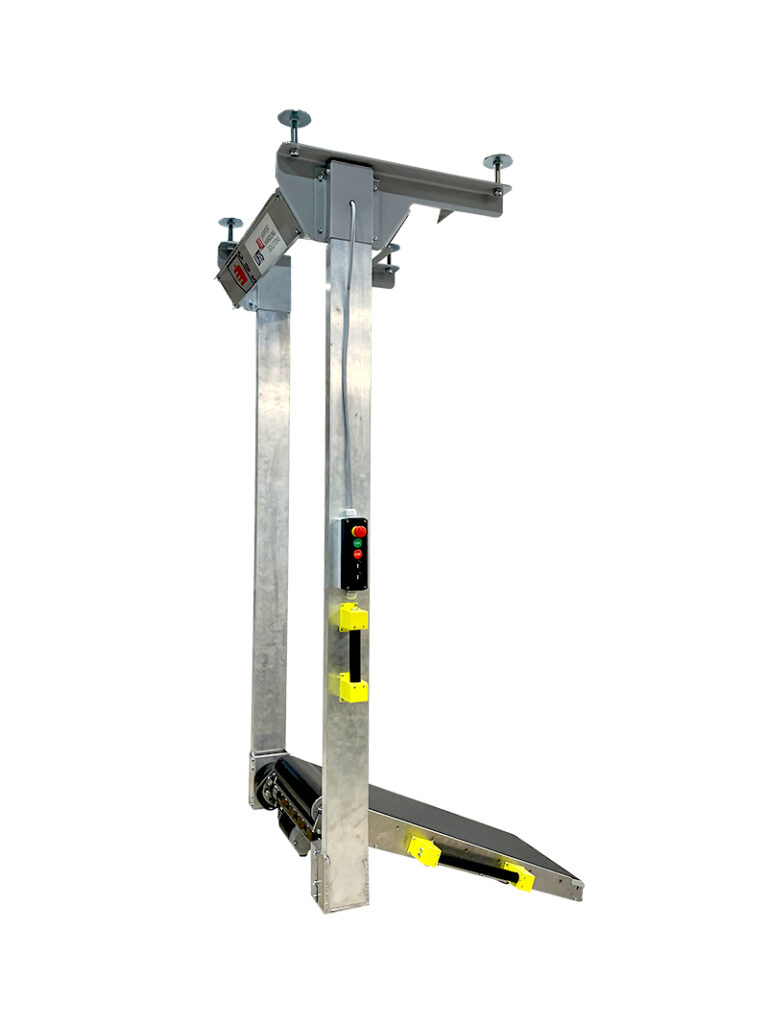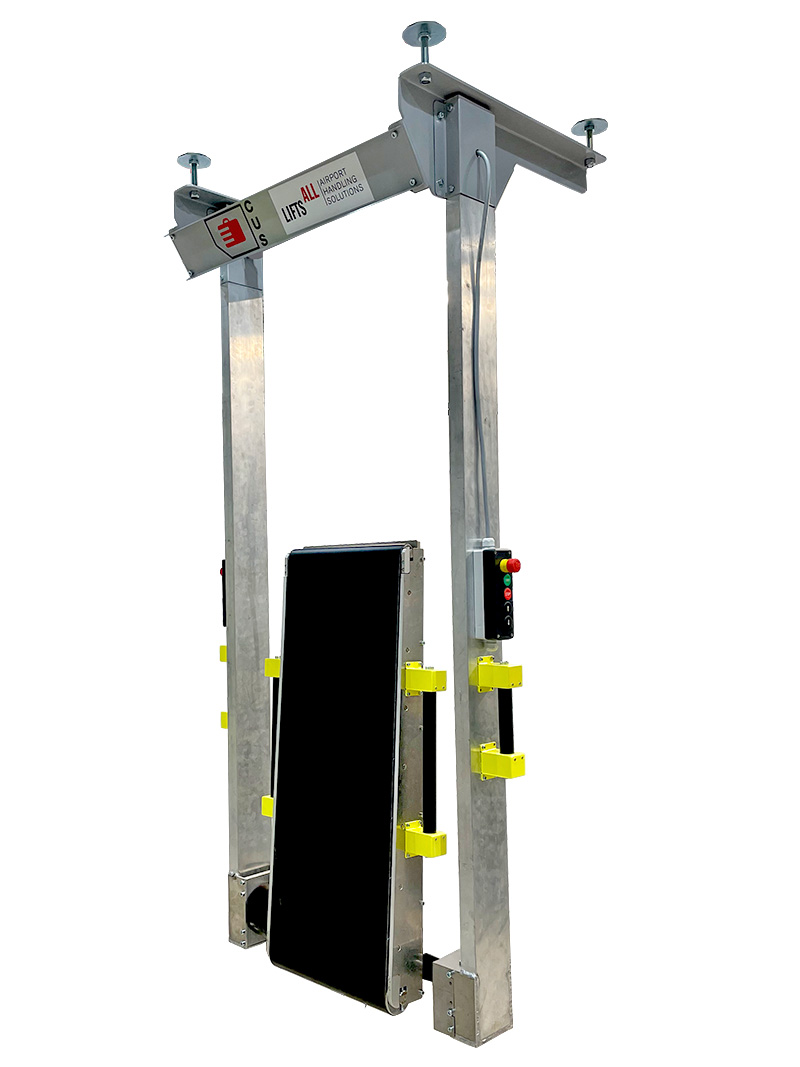 e-CUS
The CUS is now available in an electric version. The electric CUS is equipped with new features, and has the same advantages as the pneumatic CUS.