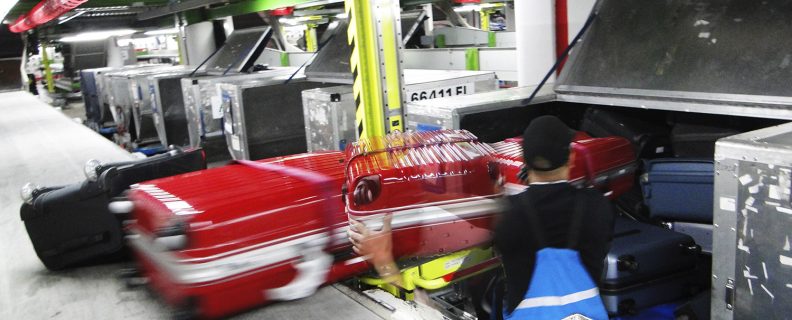 Baggage handling Systems
Leading global provider with extensive experience
Lifts All is a leading global provider of baggage handling systems (BHS). From major to minor airports, our lifting solutions have moved countless bags and saved many backs from injury. Our ground handling equipment makes the work easy, ergonomic, and streamlined.
Equipment for all types of baggage
Hardside suitcases, soft bags, backpacks, and special baggage – we have a lifting solution for almost all types of baggage. Read more about our different solutions below.
Baggage handling systems for airports
Lifts All offers several types of baggage handling systems for airports:
Electric Container Loading System (e-CLS)
Our Container Loading Systems (e-CLS) is for loading bags into containers by means of a telescopic table. Baggage is rolled quickly on and off the e-CLS, either vertically or horizontally, and loading is completed in a flash. The container will be fully loaded in no time. The Container Loading System is suitable for both left and right-handed operators, and can be customized for laterals on the left or the right side.
Electric Container Unloading System (e-CUS)
Our high-capacity Container Unloading System (e-CUS) enables baggage handlers to unload bags effortlessly. Thanks to the slightly tilted tray, baggage slides out of the container and onto the conveyor belt in just seconds.
Instead of pushing or lifting bags off the tray by hand, the e-CLS Launcher does this for you. Just load the bags onto the tray, press two buttons and the Launcher will push the bags into the container.
The Basic is a multi-gripper that makes lifting different types of baggage easy. It can lift either by latching onto the bag with a vacuum suction cup, or by picking it up with the integrated hook. The Basic has several smart functions, some of which are, a 360° rotation for precise placement, non-bulky appearance, easy to handle, and an ergonomic handle made for both left and right-handed operators.
The SPEED Loader makes unloading baggage from leaning baggage carousels effortless. Just slide to transfer the baggage from the carousel to a conveyor belt or into a ULD container. The extended arm has an excellent range that allows it to reach all the way back into the container.
Effective and safe baggage handling 
Lifting baggage manually is a heavy and straining job. Often, it results in slower operation and a decrease in productivity as the baggage handler tires during their work shift. Using a lifting tool will help improve the workflow. By using Lifts All's baggage handling systems, the strain is taken off the baggage handler. Some users testify to an increase in productivity while others have noticed more consistent energy throughout the day.
Lifts All's baggage lifting tools are safe to use. Equipped with safety functions, such as emergency stop buttons and load guards, our tools are designed to fulfill the safety standards that will keep baggage handlers protected.
Lifting baggage safely
Millions of bags travel daily from check-in areas to the airport terminals and onwards to airplanes at airports across the world. Baggage handlers are often under intense physical pressure as bags need to move quickly so that they arrive on time. Manually lifting baggage, mail sacks and cargo in and out of containers can be physically harmful. Strain injuries are not uncommon. Using lifting tools, on the other hand, often result in improved ergonomics and increased safety for the baggage handler.
Smooth installation
Lifts All's baggage handling solutions are installed into the baggage handling areas at airports. Instead of rebuilding or partitioning off new areas to fit the new system, we integrate our system into the preexisting one in the area/baggage hall. The installation process is fuss-free and operation is up and running in no time.
The baggage handling process
Plain sailing airport operations include well-organized airside and landside operations. The baggage throughput rate is a pivotal factor in meeting tight airport schedules. Baggage handling systems are integral for ensuring that bags travel at the right speed to arrive at the same time as their owners. Lifts All's high-capacity baggage handling systems can be placed at all baggage-intensive points in an airport – at the check-in area, beside transport carts, at the departure gate, at conveyor lines, between gates during transfers, and from the arrival gates to the baggage-claim area. Our lifting solutions help streamline the baggage handling process all the way through the airport.
Each airport has its own baggage handling system. Some airports opt for automated baggage handling systems, and some handle their baggage manually. Manually handling baggage means that the ground handling staff have to lift bags in and out of the aircraft, to and from conveyor belts, and into and off carts and containers, by hand. However, manually handling baggage does not have to be physically strenuous. Baggage lifting equipment is not only ergonomically beneficial, but helps baggage handlers keep up to speed and maintain precision while working.
When and where is a baggage lifting aid suitable?
A baggage lifting aid is often preferred by ground handling companies when baggage is loaded manually. The lifting aid can be installed next to the conveyor belt in the check-in area, next to the baggage carousels, at the final sorting area, or even integrated into baggage screening areas.
As automated baggage handling systems tend to be cumbersome to install, perhaps requiring a rebuild of the facility, a Lifts All baggage lifting aid is much more flexible as it is easily integrated into the current facility. No renovation or reconfiguring of the facility is required. The installation is quick, and the payoff is instantaneous, with increased efficiency and improved ergonomics.