Meet a coworker
Kajsa Englund
Position:
Marketing Manager
Interests:
Enjoying good food and travelling.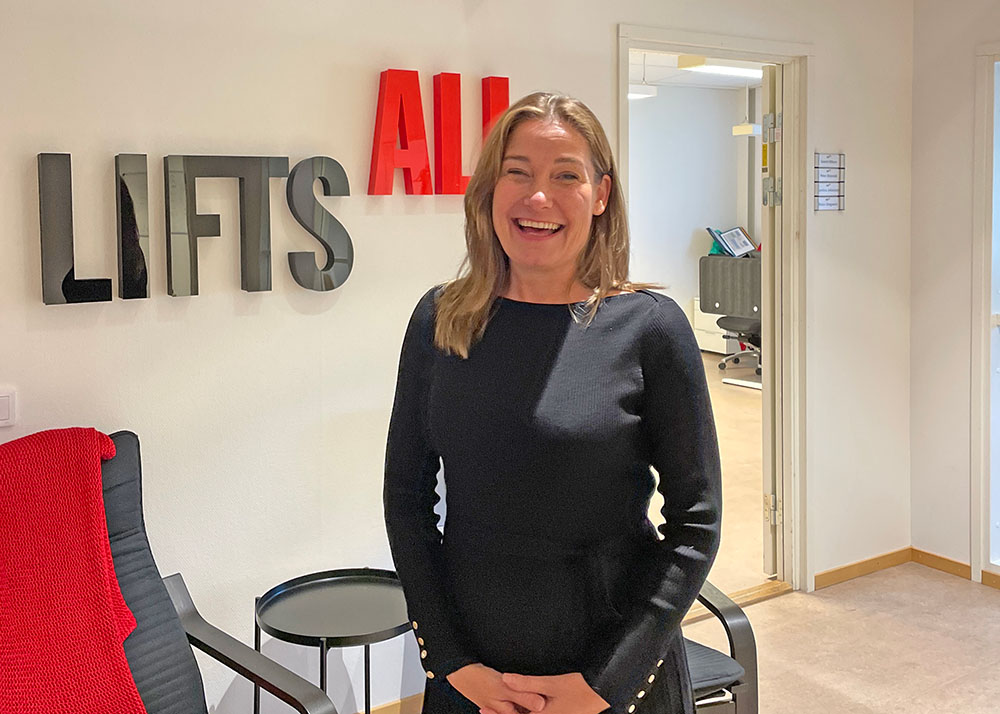 Kajsa has worked as a marketing manager and with marketing at Lifts All for a little over four years. She is in many ways a joining force at the company, who not only organizes trade fairs and advertising campaigns, but also many of the company´s social gatherings. Here, she tells us more about what it's like to work with diverse work tasks and about her favorite memory from her time a Lifts All.
How long have you been working at Lifts All, and what are your previous experiences?
I´ve been working at Lifts All for a little over 4.5 years. Previously, I worked as an Art Director, web designer, and graphic designer, both with digital and printed materials. Additionally, I've worked in various marketing departments at larger companies. My previous roles were more specialized, whereas my role at Lifts All is more comprehensive.
What are your responsibilities in your current role?
Oh, that is a tough question! My role is very overarching and varied. However, a significant part of my work involves planning for trade shows and other marketing activities. I'm have a lot of contact with our suppliers, so a lot of e-mails and administration goes into my workday. I also have the overall responsibility for my two colleagues, and we work collaboratively to plan their tasks.
What do you enjoy doing in your free time?
When I'm off work, I love to enjoy good food, whether it's cooking at home or dining out. I prefer to do this with my husband and our cat as company. I also enjoy spending time with family and friends, visiting our country house, and being out in nature. And I absolutely love traveling and going to spas. It's something I do quite often, ha-ha!
Tell us something not many people know about you.
A few years ago, my husband and I started a coffee shop together. He still runs the store today, and we both share a passion for great coffee.
What is the most challenging aspect of your job?
The most challenging part is probably keeping track of all our marketing activities. We have a lot of things running simultaneously, some of which overlap in duration. This makes it crucial to communicate and plan our work as best as we can.
What do you appreciate most about your job?
I appreciate the diversity of my work. It's quite an autonomous job with a lot of freedom within the responsibilities, which feels great. I also appreciate my colleagues. We're a great team and have a lot of fun together at work.
Share one of your best memories from your time at Lifts All so far.
A great memory I have is when we organized a "Luciatåg" during Lucia. A celebration that takes place on December 13th each year. Some of us dressed up and sang the traditional Christmas songs together and we and had a lot of fun while doing it.
"It's quite an autonomous job with a lot of freedom within the responsibilities, which feels great. I also appreciate my colleagues. We're a great team and have a lot of fun together at work."