Publicerad 9 March, 2021
Lifts All launches new lifting tool for forklifts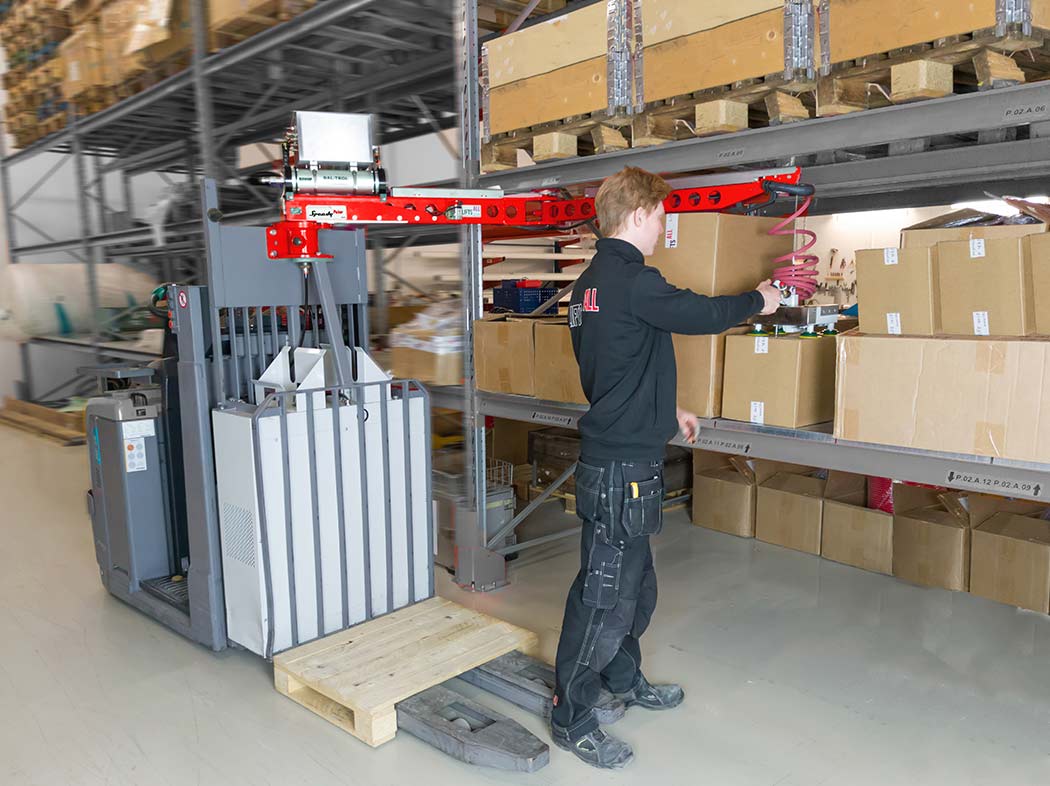 Lifts All proudly presents the long-awaited Speedy Picker, a crane arm with a lifting tool designed specifically for warehouse forklifts. With its unique compressed-air technology, the Speedy Picker helps order pickers lift packages and goods in an effortless and ergonomic way, without any strain.
The forklifts in warehouses and distribution centers play a significant role in enabling goods to be moved and shipped out quickly and easily. For the longest time, the problem has been about how forklift drivers can maintain efficacy in the workflow – lifting goods on and of a forklifts all day – without straining their bodies. In most warehouses, a single driver lifts between 10-15 tons every day. This can cause wear and tear injuries and lead to an increase in sick leave. In the long run, it may even cause more serious injuries or permanent damage.
Today, Lifts All unveils the Speedy Picker – a mini crane arm with a lifting tool that runs on compressed air, made for mounting onto forklifts.
"One of the Speedy Picker´s unique features is the compressed-air technology that enables the forklift operator to lift goods effortlessly, without feeling the weight. It is both ergonomic and energy efficient", says Svante Wibom CEO of Lifts All.
Lifts All is a designer and manufacturer of customized lifting solutions for warehouses and industries. The company has been transforming the material handling industry for over 30 years, offering customers a wide range of solutions for their lifting needs.
For more information, contact Fenglin Wang, Sales Director Speedy Picker and Airports at Lifts All, telephone number: +46 8-594 76 988 or e-mail fenglin@liftsall.se.
Download high resolution images here.